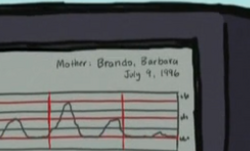 Mondo's date of birth is revealed as July 9, 1996 in the hospital monitor during his birth film.
Although it was aired as the eighth episode, it was actually the twelfth episode produced.
In addition to Mila Kunis appearing as herself, a parody of Meg Griffin of Family Guy also appears.
When Ms. Teets is telling Jeena about Duncan, a teenage Ms. Teets has pink hair styled like Jeena.