Red Tuxedo
Mondo decides to take a pregnant girl Dee-Dee to the junior prom, but he gets more than he bargained for.

Season: 1 Episode: 08
Total Episode Count: 08
Prod. no.: 112
First Aired: December 15th, 2011

Guest Starring: Mila Kunis
Featuring: Jeena, Turk, Mondo, Dee-Dee
Also Appearing: Woodie, Babs, HJ & BJ, Lonnie, Casa, Chester, Ms. Teets, Wadska, Principal Gurniel, Milan, Dick Nudel, Oliver, Smilin' Mike, Duncan, Mila Kunis, Meg Griffin
Director: Brad Ableson

Writers
:
Josh Silberman
,
Jon Silberman
Storyboarders
:
John Fountain
,
Stuart Livingston
,
Aaron Paetz
Plot
: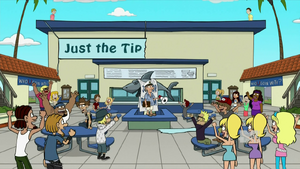 As the kids prepare for the junior prom, Mondo discovers Babs agreed to let Mondo's birth be filmed when she needed the money. When Dick Nudel tries to find out who Wadska's date for the prom is, Wadska is caught without one. Jeena gets annoyed with Turk splitting their hotel room with Casa so they are unable to have a romantic night.
When the class pregnant girl Dee-Dee feels bad about her future as a single mom, Mondo decides to take her to the prom. but when he does, Woodie arrives with news that Jeena and Turk broke up. Meanwhile, after he spots her trying to dodge photographers on the beach, Wadska tries to take Mila Kunis to the dance to show up his rival. At first she refuses, but when she bumps her head and loses her memory, Wadska convinces her she is his girlfriend. Milan decides to use Turk and Jeena's break-up to move back into his life.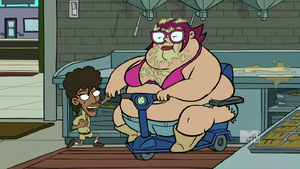 Over drinks at the Tiki Tako, Ms. Teets tells Jenna of her lost prom date Duncan and suggests that she not miss the chance to go even without Turk. when Jeena decides to go to the prom after all she bumps into Mondo and Woodie. Desperate to keep her out of the hands of another creep for the night, Mondo sets Jeena up as Woodie's date. However, Mondo starts to panic when Jeena starts to flirt with Woodie.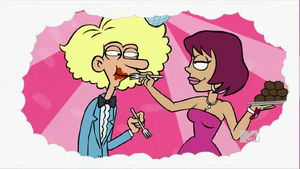 On her way home from the bar, an intoxicated Ms. Teets is pulled over on her scooter and arrested. At the dance, Turk teases Jeena about not being his date and Mondo gets jealous of Woodie again when Jeena continues to flirt. but when Jeena invites Mondo to dance, Dee-Dee is unable to due to her pregnancy and Mondo reluctantly stays by her side. Dick Nudel arrives to tease Wadska until, wadska shows off Mila Kunis, leaving a frustrated Dick with Meg Griffin.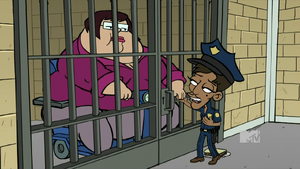 At the Del Toro Police Station, Ms. Teets finds her former lover Duncan who is working as a police officer. He begs her forgiveness and she gives him another chance to take her out. Back at the dance, Mondo's jealousy boils over until he attempts to fight Woodie but gets winded. Woodie tells him that he has been trying to talk Mondo up to Jeena and suggests that he hurry over to dance with her while Woodie keeps Dee-Dee occupied.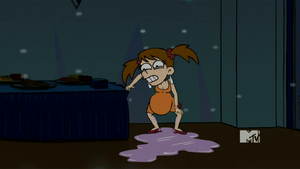 As they dance, Jeena admits feeling jealous of Mondo and Dee-Dee and Mondo admits his feelings too. as they start to kiss, Woodie comes up with news that Dee-Dee is giving birth at that very moment. As Mondo assists Dee-Dee, Milan, who has been leading Turk on all night, takes the opportunity to publicly dump him. Jeena feels bad about his embarrassment and gives him a pity dance. As Dee-Dee delivers her baby boy, she announces she is naming him after his father with Casa Malibu Spears. As Turk and Jeena dance, Mondo sees this and thinks he lost another chance to be with her and leaves for home.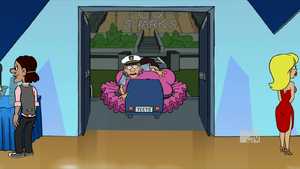 Ms. Teets arrives with Duncan, but when he spots Mila drinking during the prom, he places her under arrest, leaving Ms. Teets for his job and leaving her to console herself with Principal Gurniel. Back home, Mondo mopes about his night but Jenna comes over to his house and admits she was really thinking of Mondo all night. As Mondo clumsily tries to express himself, Jeena plants a big kiss on him. The next day, Mondo and Woodie recall Mondo's arrival and how he hated being in Playa Del Toro but Mondo admits he loves the place now.