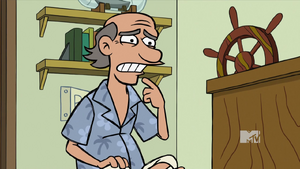 Principal Gurniel is the big kahuna of Del Toro High School. He presents a laid-back attitude and his speech habits hint at a background as a surfer when he refers to the students as "grunions" in "Tech Rehab". He also involves meditation candles in resolving disputes in "The D-List".
In "Tech Rehab", he confesses to being attracted to sex-education teacher Ms. Teets but admits he no longer is able to produce sperm.
But when Ms. Teets arrives with her long-lost love Duncan at the school junior prom in "Red Tuxedo", he spots Mila Kunis drinking and places her under arrest, leaving Ms. Teets for his job and leaving her to console herself sexually with Gurniel.
In "Mondo Mia", Mondo spots him playing guitar at the street fronting the beach and he notes that he needs the extra cash to keep up his houseboat swinger lifestyle.
Gruniel shows a stern side in "Backstage Babs" when he calls Babs into his office to complain about Mondo's behavior in school, causing Babs to consider if she's been a good parent.
Principal Gurniel is voiced by Alan Tudyk.