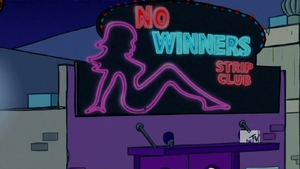 The No Winners Strip Club is located next door to the Tiki Tako Polynesian bar.
The strip club has a "Help Wanted" sign posted in "Red Tuxedo" which remains in "Mondo Mia".
Mr. Stone is seen leaving the No Winners Strip Club with two young ladies in "Mondo Mia". In addition, Ms. Teets "Fakebook" Facebook parody page contains a picture of the club.