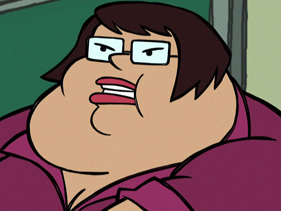 Ms. Teets is played by Danny McBride on Good Vibes.
Official description
Voneeta Teets is Del Toro High School's Sex Ed Teacher and she teaches what she knows (literally -- often using her own body as a visual aid). Living life for everything it's worth, Teets is a hardpartying, truth-talking, BBW who is DTF. Despite being 400 pounds and stuck in a motorized scamp, Teets is supremely confident in her sexuality, and breaks hearts (and balls) wherever she goes. Despite Teets seeming contempt for children (telling them to "wipe those horny smiles off their pimply faces" and that her class is "not all fun and games and hot carls") no one is better qualified to educate the youth of Play Del Toro about the harsh realities of hard partying and sex.