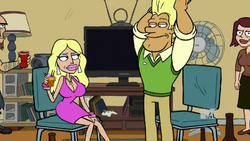 Brock and Brittany Stone are the wealthy parents of Milan and Woodie. In addition, they also have an adopted daughter Bumi from Africa.
Brock is a ruthless businessman, trying to force his son into the family business in "Floatopia". When Woodie refuses, Brock buys the Shartz beer company and tricks Woodie into signing an agreement to market the beer.
In "Tech Rehab", Mondo's mother Babs invites all of the parents over to their house while the kids are away. After some drinks provided by Ms. Teets loosens everyone up, The Stones dance like they did when they were teens and later emerge from a bedroom with Mr. & Mrs. Wadska.
In "The Grass is Always Greener", Brock gives Mondo a tour of the house showing off their wealth. Woodie tries to bring Mondo back to earth by showing him a family photograph of a day at the beach when they were happy and normal before becoming wealthy. At Milan's Sweet 16 party, Mondo discovers Mr. Stone cuddling with a housekeeper in Woodie's shack and Mrs. Stone snorting powder in the kitchen.
Mr. & Mrs. Stone appear at Bab's birthday party at the Tiki Tako in "Mondo Mia". In addition, Mr. Stone is also seen leaving the No Winners Strip Club with two young ladies earlier in the episode.