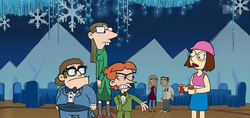 Megan "Meg" Griffin is the oldest child of Lois and Peter Griffin, and the sister of Chris and Stewie on the animated television show Family Guy. Meg is voiced by Mila Kunis.
A parody of Meg Griffin has a cameo in "Red Tuxedo" as Dick Nudel's date to the school prom.
Meg also appears as one of Babs' Facebook friends in "Mondo Mia".
External Links