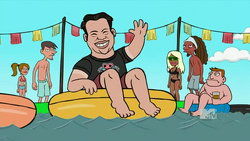 Jonathan Keith "Jon" Gosselin (born April 1, 1977) is an American television personality, known for his appearances with then-wife Kate Gosselin and their eight children on the American reality TV show Jon & Kate Plus 8.
Jon crashes the Spring break party for no apparent reason in "Floatopia".
Jon also appears as one of Babs' Facebook friends in "Mondo Mia".