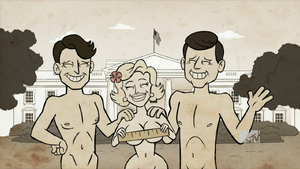 John Fitzgerald "Jack" Kennedy (May 29, 1917 – November 22, 1963), often referred to by his initials JFK, was the 35th President of the United States, serving from 1961 until his assassination in 1963.
Robert Francis "Bobby" Kennedy (November 20, 1925 – June 6, 1968), also referred to by his initials RFK, was an American politician, a Democratic senator from New York. In March 1968, Kennedy began a campaign for the presidency. In the California presidential primary on June 4, Kennedy defeated Eugene McCarthy, a U.S. Senator from Minnesota. Following a brief victory speech delivered just past midnight on June 5 at The Ambassador Hotel in Los Angeles, Kennedy was shot by Sirhan Sirhan. Mortally wounded, he survived for nearly 26 hours, dying early in the morning of June 6.
In "Virgin Hangover", a senior citizen woman at Rancho Nudero compares Mondo and Woodie to Jack & Bobby Kennedy, noting that two brothers had a surprising difference in penis sizes. The end credits show the woman much younger with Bobby and Jack.