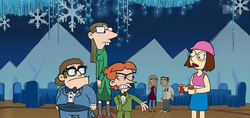 Family Guy is an animated television show that airs on the FOX television network. The show was created by Seth MacFarlane and premiered after Super Bowl XXXIII in 1999.
In "Don't Blow Your Wadska", Mondo hears what he believes to be the sounds of a porno film which turns out to be paused while an episode of Family Guy plays.
A parody of Meg Griffin has a cameo in "Red Tuxedo". In addition, Meg's voice actress Mila Kunis also appeared as herself.
Meg also appears as one of Babs' Facebook friends in "Mondo Mia".
External Links