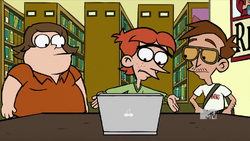 Dick Nudel is one of the three biggest geeks at Del Toro High School.
In "The D-List", he and his friends are judged to have the three smallest penises in school but place just above Mondo who is judged the smallest after losing his trunks in a polar bear plunge into the ocean in winter.
In "Red Tuxedo" he takes Meg Griffin to the school prom.
In "Backstage Babs", he's seen at the school college fair.