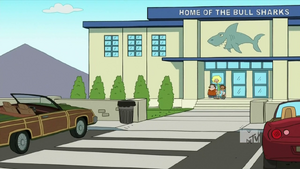 Del Toro High School is the local school in Playa Del Toro, California that Mondo and Woodie attend. Principal Gurniel is a laid-back former surfer. Ms. Teets is the sex-education teacher. The school mascot is the Bull Sharks.
Notes
As a running gag, Wadska routinely defaces the sign in the front, changing its messages in humorous ways.
Among the items listed on the cafeteria menu in "Red Tuxedo" are "Chicken a la Rodney King" and "Long Pork" which is a euphemism for human flesh.