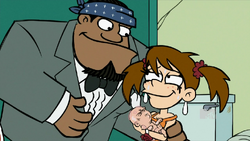 Casa is Del Toro High School's large resident African-American body-builder and Turk's right-hand man.
In "The D-List", he checks Woodie's name off at the Top 10 party hosted by Milan and her two friends, HJ & BJ. Casa ranked number four on their list of penis sizes while Woodie ranked number five. However, Woody calls the list a fake when he gets a peek at Casa's penis and claims he's hung like a cashew.
In "The Grass is Always Greener" an already pregnant Dee-Dee and Casa are seen making out at Milan's Sweet 16 party at the "Make your own pre-sex tape" booth.
In "Red Tuxedo", Casa goes to the junior prom with BJ Kuntz but after Dee-Dee gives birth and names her new baby boy after his father, Casa. Casa arrives just after the birth and pledges to settle down with Dee-Dee and be a father.
Casa's father is also a body-builder, injecting Casa with steroids in "Mondo Mia".