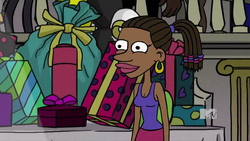 Bumi is the adopted African daughter of Mr. & Mrs. Stone and step-sister to Milan and Woodie Stone.
Milan introduces Mondo to Bumi in "The Grass is Always Greener" when she gives a tour of the Stone Mansion on her television show prior to her Sweet 16 party although she treats her as just another family belonging. At the party, Bumi gives Milan a gift of a donation to the "Save Darfur" foundation which she rudely dismisses.
She also appears at the Del Toro High School college fair with Milan in "Backstage Babs".