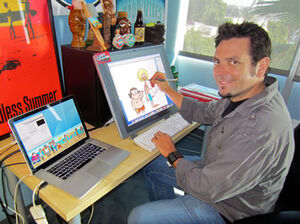 Brad Ableson spent 15 years as an animator and storyboard artist for The Simpsons. But like any passionate aficionado, Ableson wanted more. For him, "more" was making his own animated film. So he enlisted the help of some friends and got to work on an idea he had in film school, involving a cantankerous cartoon baby born into the real world. Using his industry connections and borrowing from his savings, Save Virgil was underway and Adam Carolla signed on as the voice of Virgil. A 10-minute original animated short ended up taking three years of nights and weekends to finish. Ableson even flew to Korea to supervise the animation, sleeping under his studio desk to save money. His efforts paid off when Save Virgil was sold to FOX as a pilot, but Ableson said it never got off the ground following complications with a Hollywood writer he was paired with who never finished the script.
But from the ashes of Save Virgil came a new idea. Ableson and a new creative partner, Mike Clements, dreamed up another animated series called Good Vibes, which Ableson said "is like an animated version of the movie Superbad except these kids are surfers." FOX bought the pilot this time too, but again it was canceled. Now with a wife and family, Ableson said he had all but given up on launching his own series.
Later, representatives from MTV called Ableson and ordered 12 episodes of the show, no questions asked. From there Ableson stepped down from his job at The Simpsons, devoted himself full-time to Good Vibes and now he has a hit TV show that follows the return of Beavis & Butthead.
Brad is also credited as the director of "Red Tuxedo" and storyboard artist on "Surf Legend".