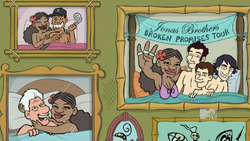 William Jefferson "Bill" Clinton (born William Jefferson Blythe III, August 19, 1946) is the former 42nd President of the United States and served from 1993 to 2001. His wife, Hillary Clinton, is currently the United States Secretary of State. Later he was impeached for perjury and obstruction of justice in connection with a scandal involving a White House intern, but was subsequently acquitted by the U.S. Senate.
Bill appears on Tang's trophy wall of former lovers at her bar, the Tiki Tako in the "Pilot".
Bill also appears as one of Babs' Facebook friends in "Mondo Mia".